TouchTunes is the largest in-venue interactive music and entertainment platform, featured in over 71,000 bars and restaurants across North America and Europe. The TouchTunes network supports a growing portfolio of location-based digital solutions that encourage social interactions through shared experiences.
An in-venue entertainment leader, pushing boundaries and creating growth opportunities for our customers.  The TouchTunes innovation story began in 1998 with the release of the world's first pay-for-play digital jukebox and since then, they have transformed into a multi-application platform offering a variety of engaging and interactive experiences any location can access.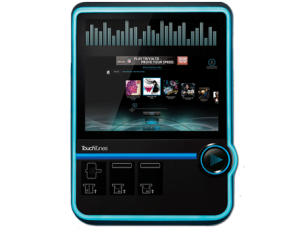 The next generation entertainment platform, TouchTunes jukeboxes deliver a tailored music experience that reflects the unique musical taste of each venue. Each jukebox gives venues the ability to select from a variety of Music Profiles to tailor the experience to their unique vibe. Standout from your competition with a TouchTunes jukebox!
"Playdium [by TouchTunes] is by far the best jukebox I've ever had."
"The TouchTunes jukebox is a definite breakthrough…"
PhotoBooth
TouchTunes PhotoBooth inspires users to be spontaneous and own the moment. PhotoBooth attracts an audience to your jukebox, creates a new revenue stream, and adds value to your venues.